Grr, its Sunday night and I haven't even touched the papers that I brought home. I had a friend's son's birthday party to visit and then went to Baltimore to see some old friends. Got home late last night, went to bed and woke up this morning to find that my pet rabbit, Roger, had passed overnight. It was not the best start to the day. We shed some tears, placed him in a box and buried him out back. It is still kind of numb and he was only about 6 years old so it was definitely sudden. Hopefully blogging about it will help.
Let's get on to some good news: I did receive a few awards, one of which I've never received before! Let's start with the Liebster Award which I received from Tammy at Second Helpings and Brittany at Sweet Seconds.
What it's all about...
The Liebster Award is awarded to blogs with less than 200 followers. The award is passed along from blogger to blogger and highlights up and coming blogs. Liebe is the word for love in German, which is where the award originated.
Guidelines to accepting the award:
Thank your Liebster Blog Award presenter on your blog. Link back to the blogger who presented the award to you. Copy and paste the blog award on your blog. Present the Liebster Blog Award to blogs of 200 followers or less who you feel deserve to be noticed. Let them know they have been chosen by leaving a comment on their blog.
I also received the One Lovely Blog Award from Sara at Smiling in Second Grade. Thank you so much for the shout-out ladies! You really helped perk up my weekend.
I'm also going to combine the two and post some blogs that I love stalking!! (And I included the ladies who awarded me so they can receive the opposite award)
Second Helpings

http://secondhelpingsforteachers.blogspot.com/
Sweet Seconds
Smiling in Second Grade
The Picture Book Teacher's Edition
Soaring Through Second

Buzzing With Ms. B

Busy in K
Journey of a Substitute Teacher
Just Teaching Kindergarten Edition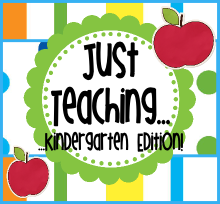 First Grade Found Me

I think I might come back and add more later but for now, its been a long day, a long weekend (and not the good kind) and I want to go to sleep but I'm also thinking about what to do for my next unit! Any ideas or needs out there? We start reviewing math for quarterly assessments this week so maybe I will get motivated!
Next up, Farley's Currently Linky Party (thank goodness, something to get my out of this funk):
Don't forget to enter my giveaway! It ends tonight at midnight!
Hope your week is better than my weekend. I appreciate any thoughts and prayers for Roger.